First, let me start by saying I've worked as a waiter and licensed Mortgage Loan Originator, and for a while, in 2008 I was both simultaneously.
The Confession: Today I took my family out for a meal at a chain restaurant in town and I didn't tip well.
With a four and seven-year-old these types of restaurants tend to have a choice of food that meets everyone's needs. And as we walked in I was a bit dismayed to see tabletop tablets again. You know the ones that are popping up everywhere?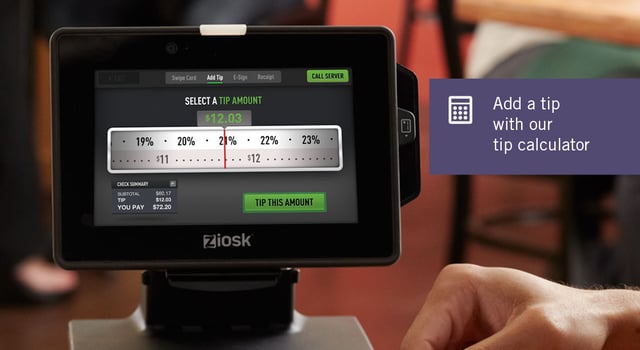 They are supposed to save time, increase table turns, and make sure that guests have the best experience. But really they are just proving that general table-side waiting is a job that is dying.
Maybe it was my cold, or that its been a long week, but when we were finished the waiter came and said we could get our bill on the tablet and to please answer the survey questions because they were having a contest. But from the time we were seated to the time we paid and left I saw the waiter at my table 4 times. A half hearted welcome and taking the order for drinks, the delivering of drinks, the delivering of food, and then the plea for a survey. He offered no sense of being knowledgeable of the menu, no offer of culinary delights that we should try, a half crooked smile, and an almost begrudging gate in his walk.
| | | |
| --- | --- | --- |
| | The Restaurant Experience | |
| Then | | Now |

I didn't do the survey (merciful of me), but I also didn't tip well. Again, having been a waiter I know how important those tips are. But with the increased use of these digital devices it seems that the waiters are becoming nothing more than glorified food delivery systems who occasionally refill beverages. I mean I can order on the tablet, split my own check, sign myself in (or sign up) for a rewards program, and pay my own bill. Frankly it is only one step away from walking up to a counter to order my food. And when I do eat at those places I don't tip 15% for them to take my order and call my name.
Maybe you're wondering why I'm writing this on The Knowledge Coop blog for you today.
Well, as I was driving home and discussing the recent dining experience with my wife it hit me...the mortgage industry is in the EXACT SAME SPACE as the table-side waiter. And unless you are very careful you will also start experiencing the same thing.
Technology is wonderful, and you will hear us continue to encourage you to look at new and compliant ways to utilize it in your business and for your organization. I mean we build a software platform to increase your internal compliance and knowledge base, so I whole heartedly support technology. But customer facing technology can erode the customer experience before you even know it is happening. If a customer can upload docs, sign docs, ask questions, and receive docs while never seeing you in person then you have to wonder...Why are you even doing it? You don't get tips like a waiter, but you do get paid on loans. Ask yourself, would your clients pay you more if they could because of your service, or do they sign closing documents begrudging the dollar figure that is going to your company?
You must be the masterful host of the experience.
I think the solution to this issue is exceptionally easy and you can still thrive in an ever changing environment of increased technology. You must be the masterful host of the experience. Buying a house is an experience! Selling a house is an experience! And we Americans LOVE to have amazing experiences!
You have to make this process more than process, it has to be an event that people look FORWARD to. Only you can do that because only you can make human connections and interactions that create positive lasting memories.
In regards to the table top tablets, this past weekend we were at another restaurant and the waitress was extremely friendly and engaging. She laughed with us and offered us great meal choices by showing us the pictures on the tablet and then making us feel like we were VIPs at a special place. When she told me about their survey and asked for my input she received excellent reviews and a large tip because she made the technology part of the experience, not the center of the service.
So, which waiter of loan programs are you? Which do you want to be?